We always love welcoming new teachers into The Music Place family and with the turn of the new year, we welcomed three new faces on board! So this week, we're dedicating our blog to getting to know our lovely new staff members a little better. Meet Natalie, Menna and George!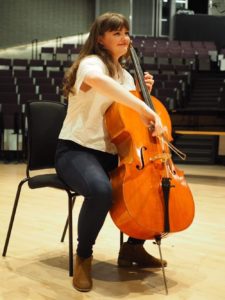 Natalie – Cello and Piano
Natalie is an Anglo-Danish cellist who grew up in Woodbridge, Suffolk. After being awarded several scholarships for conservatoires in the UK, she studied her Bachelor of Music at the Royal Northern College of Music with Nicholas Trygstad. Since graduating in 2019, Natalie moved to Jutland, Denmark, where she was headhunted for several cello teaching posts with the regional music services. She has nearly 10 years' experience teaching cello and piano and has recently returned to Manchester to study a master's degree in music with Jennifer Langridge. Alongside her teaching at The Music Place, Natalie freelances in and around Manchester with multiple chamber music ensembles.
Menna is a recent graduate from the Royal Northern College of Music where she completed a Bachelor of Music with Honors studying vocals on the Popular Music course. Menna has studied many genres of music including Pop, Musical Theatre, Classical and Jazz and achieved her Diploma in Classical singing at just 18. Positive, enthusiastic and approachable, Menna's teaching style helps bring out the most from her students while also incorporating key information on music theory and vocal technique. Menna ensures her students are achieving their full potential while having lots of fun!
Originally from Stoke-On-Trent, George studied guitar and bass from an early age. In 2015, he graduated from the Royal Northern College of Music and went on to perform with the likes of John Bramwell, The Mouse Outfit and Berry Blacc as well as in his own original projects. George is a familiar face on the Manchester gig circuit and is an experienced performer and sound engineer. Alongside gigs and teaching work, George is the director of Rec Rooms, a professional podcasting and livestreaming company and co-hosts Rec Rooms' popular music podcast Kicking Back.
We're really excited to welcome Natalie, Menna and George to The Music Place- they're all awesome musicians, excellent teachers and all round good eggs! We really hope you enjoy learning from them.